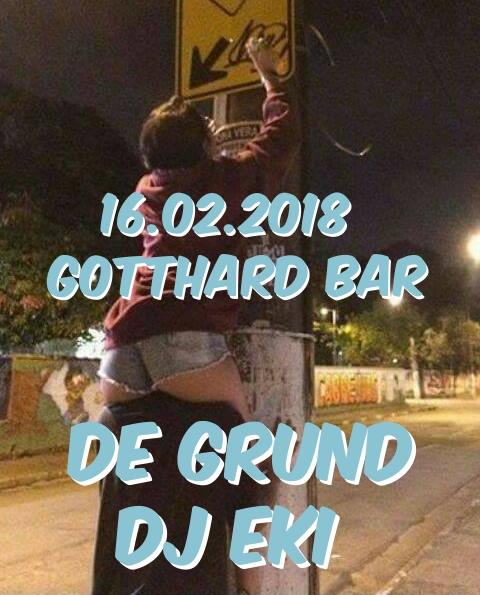 De Grund
16.02.2018, 22:00 - 03:00
Originally, the «disc» in «disc jockey» referred to gramophone records, but now «DJ» is used as an all-encompassing term to describe someone who mixes recorded music from any source, including vinyl records, cassettes, CDs, or digital audio files stored on USB stick or laptop. DJs typically perform for a live audience in a nightclub or dance club or a TV, radio broadcast audience, or in the 2010s, an online radio audience. DJs also create mixes, remixes and tracks that are recorded for later sale and distribution. In hip hop music, DJs may create beats, using percussion breaks, basslines and other musical content sampled from pre-existing records. In hip hop, rappers and MCs use these beats to rap over.
DJs use equipment that can play at least two sources of recorded music simultaneously and mix them together. This allows the DJ to create seamless transitions between recordings and develop unique mixes of songs. Often, this involves aligning the beats of the music sources so their rhythms do not clash when they are played together, either so two records can be played at the same time, or to enable the DJ to make a smooth transition from one song to another. An important tool for DJs is the specialized DJ mixer, a small audio mixer with a crossfader and cue functions. The crossfader enables the DJ to blend or transition from one song to another. The cue knobs or switches allow the DJ to pre-listen to a source of recorded music in headphones before playing it for the live club or broadcast audience. Previewing the music in headphones helps the DJ pick the next track they want to play, cue up the track to the desired starting location, and align the two tracks› beats in traditional situations where auto sync technology is not being used. This process ensures that the selected song will mix well with the currently playing music. DJs may also use a microphone to speak to the audience; effects units such as reverb to create sound effects; and electronic musical instruments such as drum machines and synthesizers.
The title «DJ» is also commonly used by DJs in front of their real names or adopted pseudonyms or stage names as a title to denote their profession (e.g., DJ Jazzy Jeff and DJ Q-bert). Some DJs focus on creating a good mix of songs for the club dancers or radio audience. Other DJs use turntablism techniques such as «scratching», in which the DJ or turntablist manipulates the record player turntable to create new rhythms and sounds. DJs need to have a mixture of artistic and technical skills for their profession, because they have to understand both the creative aspects of making new musical beats and tracks, and the technical aspects of using audio consoles, professional audio equipment, and, in the 2010s, Digital Audio Workstations and other computerized music gear. In many types of DJing, including club DJing and radio/TV DJing, a DJ also has to have charisma and develop a good rapport with the audience. Professional DJs often specialize in a specific genre of music, such as house music or hip hop music. DJs typically have an extensive knowledge about the music they specialize in. Many DJs are avid music collectors of vintage, rare or obscure tracks and records.