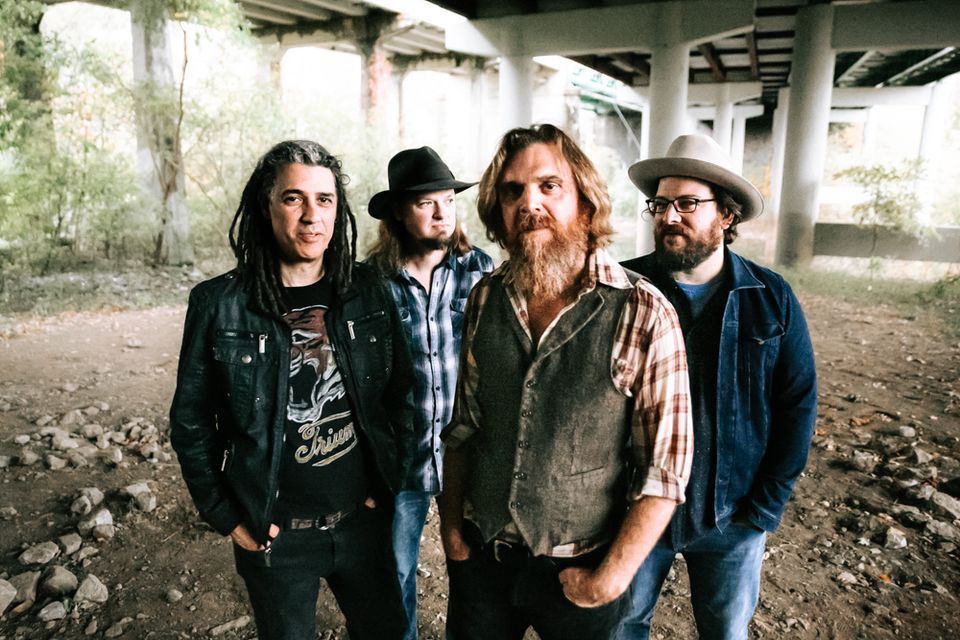 Live: David Newbould and his Band
14.11.2023, 21:00 - 23:00
Newly returned from his first European solo tour, Nashville based Americana artist David Newbould is planning his continental return for fall 2023, bringing his full 4-piece band along with him for the first time. His 2022 inaugural run covered Belgium, Germany, Holland, Denmark, Sweden, and helped lay solid groundwork with stellar reviews and enthusiastic audiences spilling out into the night at each stop. He appeared live on Frisian TV, Belgian Radio, and had a special radio appearance with legendary Dutch national radio host Jan Donkers. He returned home to find that his 2022 album, Power Up!, was being considered for two GRAMMY awards: Best American Roots Song ("Home Depot Glasses"), and Best Alternative Music Album.
David Newbould is a lifer. Since kickstarting his career with 2007's Big Red Sun, he's made his mark as a heartland roots-rocker, Americana artist, and amplified folksinger, writing songs that chart the ups and downs of an adulthood often spent onstage and on the road. He turned a new page with his fourth full-length studio album, Power Up!, a record whose messages of persistence and unshakeable survival are driven forward by the grease, grit, and guitar-driven swagger of rock & roll.
«We both love albums from the 1970s, when artists had total freedom in the studio and were pushing boundaries, experimenting with sounds, and having fun,» says Newbould, speaking of himself and produced Scot Sax. «That's the vibe we achieved with this album, too. It's a basement rock & roll record. Some guitar solos have mistakes in them, but they have a vibe, too, so we kept them. Some drum tracks were recorded with an iPhone. We didn't get too precious with it." Newbould and Sax worked together as a self-contained unit, only reaching out to friends like Newbould's live band and Americana Music Award-winning violinist Kristin Weber (who contributed to the album's cover of Crystal Gayle's «Ready for the Times to Get Better») for guest appearances.
Newbould isn't used to sitting still. Born in Toronto, he relocated to New York City as a teenager and logged time in Austin's fertile music scene before ultimately settling in Nashville. There, he found a community that was every bit as diverse as his own history. Albums like 2013's Tennessee shone a light on his cross-continental travels and inner journey, too, while 2019's Sin & Redemption found him fronting an A-list studio band whose members included drummer Brad Pemberton (Steve Earle, Ryan Adams) and rock legend Dan Baird (Georgia Satellites). With Power Up!, Newbould veers from the talking blues of «Home Depot Glasses» (a tribute to the late, great John Prine) to the guttural, riff-ready rock of the album's title track, to «Peeler Park» — a rollicking Steve Earle meets-Nick Cave's Grinderman groove, named after a riverside greenway close to Newbould's home. There is also the politically-tinged fury of «Blood On My Hands," the atmospheric soundscape of «The Lawn,» and the optimistic, folk-rock sway of «Sunrise Surprise.» The result, he says, is an album that's «dirtier-sounding than much of what I've put out. It feels like a garage to me. There's not a whole lot of daylight to it."
He has plans to release new music in 2023 – music being fried and textured in the home studio he built during the 2020 pandemic. "It's liberating to have a place to really work out of at home. I've been able to dive in deeper than I ever have. I'm excited about the things I've come up with in there, and the music I'll be able to share as a result."
With a catalog of critically-acclaimed releases, thousands of live performances, and placements in programs like Criminal Minds and Dawson's Creek, David Newbould has carved his own spot in the roots-rock world. 2023 promises a new layer in the unique sound and carefully-constructed craft that have piloted Newbould's career for more than a dozen years.
***
Bar: 17.00 Uhr
Show: 21:00 Uhr
Eintritt frei (Kollekte)
Die Kollekte ist für die Band. Wir empfehlen einen Beitrag ab 15.– pro Person.
***