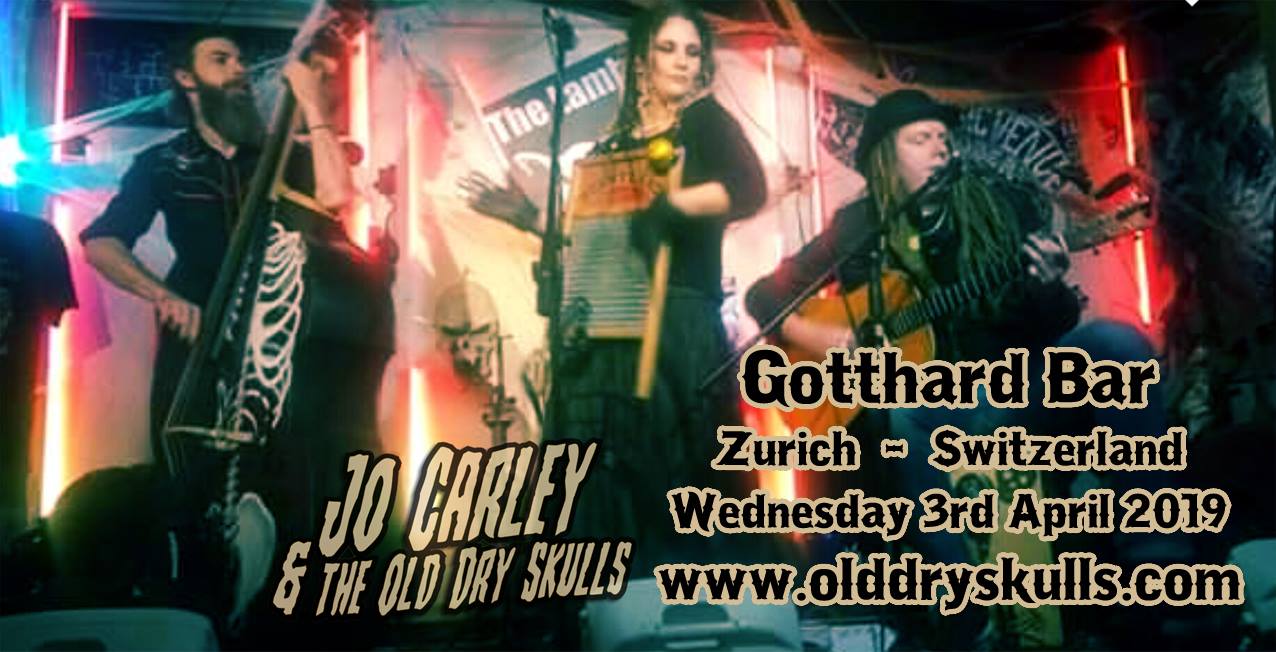 Live: Jo Carley and the Old Dry Skulls (UK)
03.04.2019, 19:00 - 20:30
Live: Jo Carley and the Old Dry Skulls (UK) / Mi, 3. April / Show 21 Uhr / Eintritt frei (Kollekte!)
***
Dedicated to the subversive, the world of Jo Carley and the Old Dry Skulls is dark, animated and unusual. Seeking to amuse and draw the audience into an underworld filled with wonder, the macabre and the imagination they combine elements of Vaudeville, Skiffle, early horror films, early ska, calypso, old-timey country, and the Blues. This trio play a unique hybrid of early 20th Century music infused with dark Cabaret.
The driving force is Tim's One-man-band set-up with Kick-drum, hi-hat and guitar while Jo's vocal delivery sounds like the leader of Satan's own gospel choir. This is made even more bewitching as she switches from fiddle to mandolin to washboard. They are joined by James Le Huray on double bass and banjo.
We are really pleased to announce that our new album 'Shake Them Rattlin' Bones' will be out in early 2019 on our very own label Old Higue Records. It has been a year in the making and features nine tales that lure you between the cracks of reality and take you downtown to the underworld, where the hobos and down and outs are up to no good, jug bands hustle for change on poor man's corner, zombies walk the night and the Voodoo Priestess rules all…
To coincide with the album release we are heading back on the road across the UK, Germany, Italy, Switzerland, Belgium, France and the Netherlands in March and April 2019.Jo Carley and The Old Dry Skulls combine the voodoo rhythms of 1930's ska, calypso and the blues with old timey vaudaville cabaret. Music that makes people wanna shake their bones!