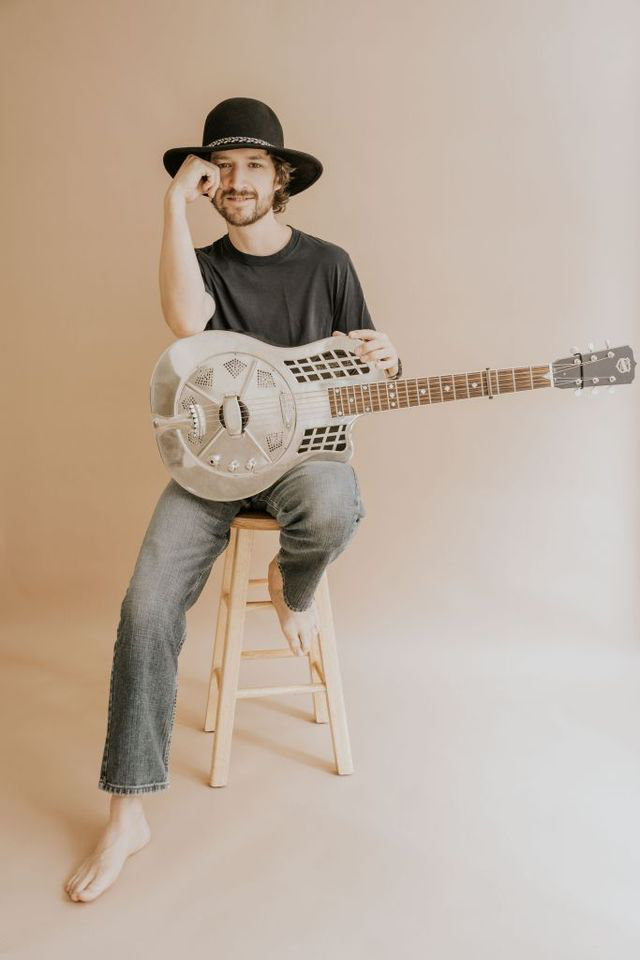 Live: Mountain Son
05.10.2023, 21:00 - 23:00
Mountain Son is a multi-instrumentalist, songwriter, and producer planning his first Europe tour. Based in Eugene, Oregon and fueled by the tones of a resonator guitar and the deep well of American Roots music, he draws two decades of songwriting and performing experience. With inspiration from folk, country, and blues icons such as Willie Nelson, Elizabeth Cotton, Mississippi John Hurt, Bob Dylan, Kate Wolf, Robert Johnson, Townes Van Zandt, Blaze Foley, Charlie Parr, and Gillian Welch, Mountain Son combines skillful fingerpicking and slide guitar work with songwriting expertise to create a timeless and original sound.
Mountain Son also performs as singer, banjo player, guitarist, and producer/engineer for the Eugene based progressive bluegrass band The Muddy Souls.
With two self recorded and produced solo albums currently finished, Mountain Son says that he has enough original material to record two more in 2022. "There is no shortage of songs! They continue to flow like water; it seems that after all these years I'm finally getting the hang of it and all I have to do is turn on the tap. The only problem is that I can't record them fast enough! A good problem for a songwriter to have I guess"
His latest release Hard Workin' Man includes the title track written for his dad, who taught the value of hard work and persistence in all areas of life. "I wrote that one for my dad while I was out jogging and the song kind of flashed through my head and I said, 'Damn, I better turn around and go home to write it down before I forget!'"
Another song from Hard Workin' Man called, "Empty Pocket Blues" was written by friend Julia Romanelli. "Julia came over one day to record a song at my tiny house studio and as soon as I heard it I just loved it and decided to put it on the latest album. It's a great song and really sounds to me like it could have been written by Elisabeth Cotton 50 or 60 years ago."
***
Bar: 17.00 Uhr
Show: 21:00 Uhr
Eintritt frei (Kollekte)
Die Kollekte ist für die Band. Wir empfehlen einen Beitrag ab 15.– pro Person.
***
Mountain Son – Useful links: